Attractive Country house : France
Attractive Country house For Sale in the Limousin
(sale by the owners themselves; no agencies) NEW PRICE : 235.000 euros
blue granite, south-facing Country house located in a splendid 7400 m2 garden that slopes down to the River Creuse

125 m2 living space plus a 22m2 room in the basement (ideal as an office or extra bedroom); the residence lies in a peaceful hamlet, but is near to shops, restaurants and all other services etc...

Owners : Mr. and Mrs Henri & Nicole CAZEAULT
€ 269 000 Net => Having seen passing two opportunities to buy an apartment, we lowered our price: 235.000 euros net seller

no agency fees: there is no agency! thus saving ...

And we are open to negotiation between reasonable people ... but then a sudden drop 35,000 .... A visit first ...



This site, as seen from the Chrome application has access to automatic translation provided by Chrome the selected page and the language ... or click on the flag.



Feel free to comment (below) there are already recent comments (and it makes disappear the pub ...)

PROPERTY DESCRIPTION

THE GROUNDS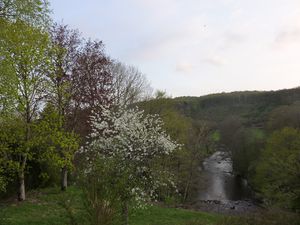 The entire surface of the property is 7450 m2 according to the official land register. It is located in La Chave, a post-card perfect hamlet of six houses reached by a tree-lined country road (over1km long). A hiking footpath also starts near the house. The Property's picturesque gardens roll down to the River Cruese, where you can fish (trout and crayfish). Some parts of the garden are flat, other sections are sloping, but all provide panoramic views of the river and the surrounding valley. The garden is frequented by a variety of birds including herons, woodpeckers, kites, robins, swallows and wagtails.
The Building
Type of house: entirely renovated 1920s blue granite stone country house.
Roofing: Tiled roof in excellent state (recent) with 2 chimneys (boiler and the living room fireplace)
Three Floors:
• Ground floor (kitchen, lounge with balcony), dining room, bathroom, WC, Entrance)
• Upstairs (2 bedrooms, study, bathroom & seperate wc)
• Well-maintained basement with 4 separate zones, including a fully fitted space with a large window overlooking the garden and a separate door into the garden. This room is currently used as an office but it could easily become an additional guest room with WC, shower etc…

Cadastral designation 163AV
Commune of SAINT-MEDARD-LA-ROCHETTE (23200), Chave
note: AV 133 is not included anymore (ruins given to neighbour)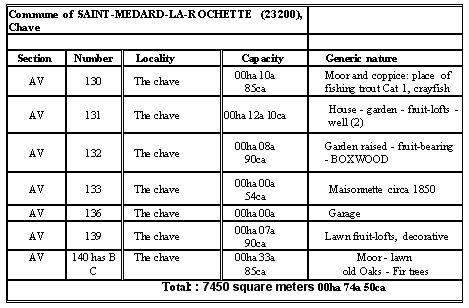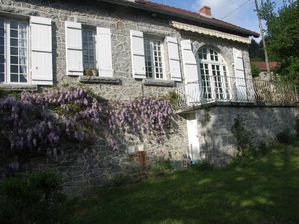 Designation

Charming country house (3 levels: cellar, ground floor, top floor) in excellent condition, built upon a granite slope in the Creuse valley. The grounds and building are well maintained. Immediately livable.

• ground floor :
- 8,26m2 entrance with circa 1935 floor tiling; wallpaper.
- W.C. (1.52m2) with hand basin, 1930s floor tiling; wallpaper.
- dining room (16.20m2), with splendid views over the cruese river and its valley; floating parquet flooring; recent wallpaper; French windows; double glazing (with removable panes for easy cleaning).
- Downstairs Bathroom (5.30m2); tiled floor; tiled walls (3/4 height) and wallpaper; modern lighting; washbasin and large mirror; a shower; modern valves and Grohe fittings.
- Fully fitted kitchen (6,49 m2); tiled floor; tiled/painted walls; Induction hobs (Dietrich); brand new sink; dishwasher; fitted electric oven (Zanussi); microwave; refrigerator; kitchen units (all included).
- living room (20m2) with a beautiful wooden fireplace (handcrafted), large double doors (double glazed throughout) that open onto a raised terrace/balcony overlooking the Creuse River and the upper level garden; floating parquet flooring; wallpaper; visible beams.

• Top Floor
- Main Bedroom (16,71m2), with floating parquet flooring; wallpaper on the walls and ceiling; visible beams; large modern skylight (with blind) overlooking the river.
- Bedroom 1 ( 3,27m X 2,99m); inbuilt cupboard (in addition to these dimensions); with fitted carpet; wallpaper on the wall and ceiling. Overlooking the hamlet.
- Study (4,69m X 2,18m) at the top of the staircase between the two bedrooms; high mansard-roof; wallpaper; visible beams; wall cupboard (1,50m X 3,27m); recent floating parquet flooring; skylights; wallpaper on the wall and ceiling; modern lighting. This space can be used as a study, living or reading room.
- Upstairs Bathroom (6,70m2), with lino flooring; wallpaper on the walls and ceiling; modern washbasin, valves and fittings; spotlights; multimode shower cubicle; small additional tidying space. Large modern skylight (all skylights fitted in 2008).
- Upstairs w.c (1,5m X 2,59m), with lino flooring; spotlights; washbasin; wallpaper; anti-noise walls.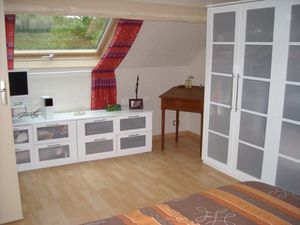 • Basement
(4 sections of approximately 4mx3,50m each), accessed by interior staircase and 2 other doors to the garden.
- cellar-storeroom; shelving for storage and food; refrigerators (2); freezer; under-the-stairs hollow with wine racks.
- boiler-room (boiler Die Dietrich)/washing machine room; integrated fuel-powered (4.000 liters) water heater; hand basin and facilities to install shower & W.C. if necessary; secure window.
- Drying/storage room with a secure door onto the top-level garden.
- Office (18m2); comfortable, well isolated and recently redecorated; telephone and internet connections; accessible via basement or a separate door out onto the garden; could easily be converted into a self-contained bedroom or apartment (water & waste pipes easily connected). It is a bright, light-filled space with a large, secure, double-glazed window (1,85m X 2,25m), and French doors out onto the garden. Birds frequently feed on the windowsill.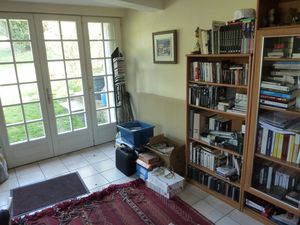 • The garden :
- A Garden Shed for tools, mowers etc. Space for the washing line.
- The main gate (recent PVC with A lock) and the back of the house are equipped with automatic movement detecting lighting.
- Large, raised garden with various fruit-trees, roses, a splendid old boxwood and a small bamboo plantation close to the principal well. Part of the garden slopes gently down to the river, other parts are steeper, but provide good views. Two paths (one of which includes olde-worlde steps made of old rail sleepers) lead to the river, one part of which is perfectly secluded for trout and crayfish fishing.
- There are two natural wells used for watering the garden in the summer, but both are connected to the house and could be used. The House's tap water is of an exceptional quality (some of the best in France).
- Separate Garage (recent and lockable) next to the garden off the road.
- Small 19th-century ruin (circa 1840) with regional stone, roof tiles and old stone hearth, set within the boundary of the neighbour's house. It should be noted that the neighbor has expressed his desire to acquire this maisonnette, but no document has, so far, been signed.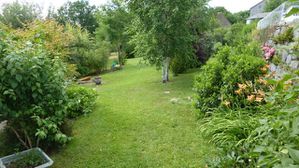 Important technical details :
- Waste disposal: Used water and sewerage are cleaned naturally in a deep septic pit (certified " acceptable").
- Central Heating: fuel powered with a Die Dietrich boiler less than 10 years old (maintenance once a year), integrated hot water tank (4000 liters). radiators have the same age or are more recent and each have their own thermostat.
- Modern double-glazed windows and doors throughout.
- The small terrace off the living room (overlooking the river) is equipped with a large electric retractable blind (remote controlled).
- The office (or possible bedroom) in the basement is also protected by a remote-controlled shutter.
- Full high-speed internet access (currently 6 - 8 mega speed).
- A TV satellite (1m35) on the roof pointed towards the river gives full TV access, plus an extra antenna offers TNT.

*****************

Strong points :
This property is located 15 minutes away (by car) from the historical town of Aubusson (famed for its tapestries), where you'll find museums restaurants, shops and services (clinics, hospital, taxis, schools etc..). It is also a 30 minute drive from Guéret , which offers also offers hypermarkets, hospitals, Lycée (secondary school), and restaurants etc…
La Chave is a 5 minutes from the village of Lavaveix-les-Mines, where you'll find a doctor, pharmacist (other doctors/dentist are within a radius of 5 to 7 km), bakers, grocers, florist and antique shops.
10 minutes from the picturesque, medieval village of Ahun: doctors, food shops, supermarkets, services, restaurant etc.

Getting there :
Rail: The SNCF runs direct high-speed TGV trains between Paris, Toulouse and La Souterraine (50min drive) as well as between Limoges (1 hr drive), Paris and Roissy Charles de Gaulle Airport (twice a day). On these lines it is also easy to change for the Thalys to Belgium, and the Eurostar for Lille, London and the Channel Tunnel. Regional trains (TEOZ and TER) run from both La Souterraine and Limoges.
Limoges (approximately 1 hour by car) is an excellent regional center with an international airport, major hospitals, Clinics, restaurants, boutiques, shopping malls, schools (primary and secondary). The airport of Limoges is served directly by Ryanair (towards the U.K.).
Clermont-Ferrand is also around1 hour away by car: it is about an important city both for businesses and hospitals. Its international airport is a hub for national and international flights.
Fast roads serve the pretty town of Montlucon in under 50 minutes; and from there, you can connect to autoroutes (highways) for Paris, the North-East and the South.
The Outdoors….
The following activities can be enjoyed in the vicinity
- Kayaking (in the river at the bottom of the garden) or with kayaking schools in Aubusson.
- Fishing
- Hunting
- Bird-watching
- Hiking
- Cycling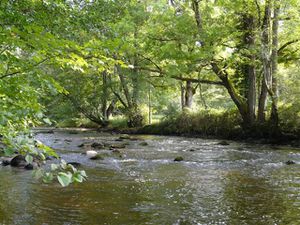 Additional note :
All legal documents are obtained and available (CPE, etc) as to the state of the building and land, so this description is based on the owner's perception of their property. They esteem that the building and land do not require any essential work, but these are details that are also confirmed by the afore mentioned legal documents at the time of the sale.

Google Maps localization

La Chave (as seen on Google Maps, so look around, use the scaling etc : http://maps.google.co.uk/maps?f=...
For additional information on the department : La Creuse, please see
 http://www.tourisme-creuse.com/sommaire.php?id_rubrique=1
Or "want to know more about "Le Limousin ?", see:
http://www.tourismelimousin.com/

Official Cadaster : (in rosy red : the property)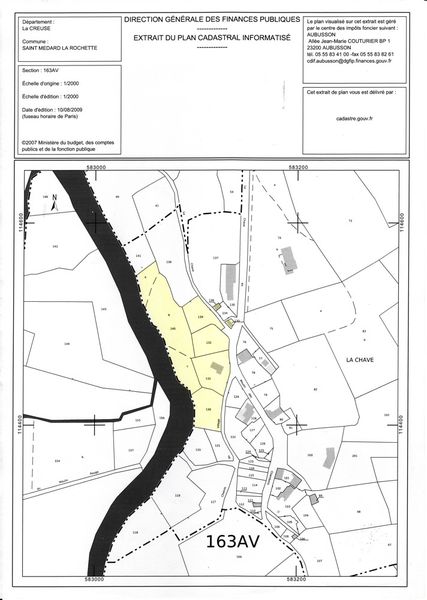 Chargement de l'image
Cliquez n'importe où pour annuler
Chargement de l'image
Cliquez n'importe où pour annuler
Partager cet article
Pour être informé des derniers articles, inscrivez vous :